I would like to migrate my existing 4.5 installation since phantomJS suddenly quit working on me, but I can't even get to that point where I would start that migration. I was able to put the latest 4.5 build over the existing installation, so that side of things is ready.
I don't know what I am doing wrong here. I have tried and tried to get past this. I first installed on an existing Ubuntu 20.04 with MariaDB/Apache2/php7.4 which is presently hosting other sites (but not my current invoice ninja,) so I figured my problem was possibly some sort of conflict with my server configuration for the other sites, so I reverted that back to the snapshot I made before making changes, then spun up a clean VM, installed Ubuntu 20.04 server, followed the instructions at Install Invoice Ninja v5 on Ubuntu 20.04 - #5 by invoicemastersteam this time using nginx, and I am stuck in the exact same spot!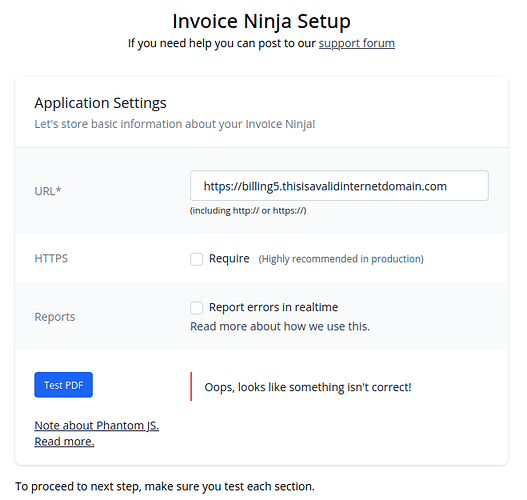 No errors in the nginx access or error logs for the site, laravel.log in the storage/logs lists this when the page is first loaded:
[2021-10-19 23:43:05] production.INFO: db fails
(I would expect that, because I haven't yet specified the database.)
I am spinning up VMs on my own hardware, so I am certain that I have enough resources, etc.
Edit: I should add that I am attempting to install the 5.3.25 release from zip downloaded from github.