First off, want to thank @hillel for replying to my tweet and being open to feedback. Below are a couple issues I had during my evaluation of v5. I intentionally listed the feedback from actionable to opinionated.
Testing setup
Windows 10 (latest)
Chrome (latest)
27" monitors
Self-hosted instance (build v5.1.46-C45) installed from Github using https://ploi.io.
Initial install PDF issue
During the first two install attempts I was unable to pass the PDF test. This was over a couple of days (4/8-4/11ish) but the last couple installs (after 4/12 to today) have been fine so I haven't been able to reproduce the issue. Worth noting, logs didn't have any record of the issue. Console log only returned a "Server 500" error.
Localization → Settings
Dropdown issue
When selecting a timezone I'm unable to scroll to the bottom of the dropdown's list as the list continues out of the screen's viewport. Searching for a tz however works perfectly to narrow the list.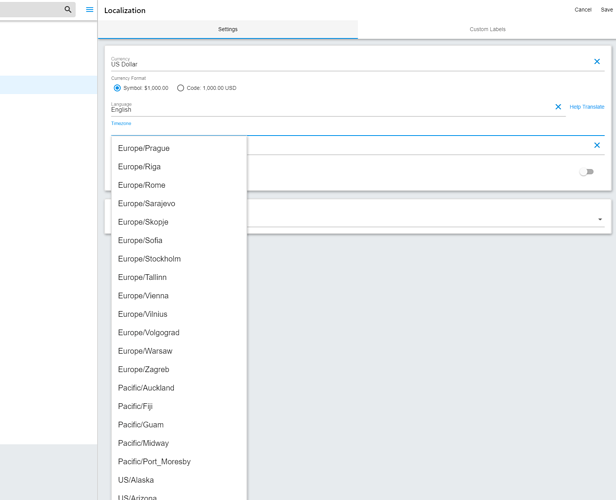 HTML entity code
Additionally when searching for a timezone I noticed the html entity code is shown instead of an ampersand.
Tabbing through form fields
When attempting to tab through form fields (in Settings → Email Settings) it tabs between the currently selected field and the browser's URL bar. This seems to be a Chrome issue, Firefox correctly moves to the next input.
Using a password manager
I only have 1password so I'd like if someone else can verify this with another manager (LastPass or Bitwarden) but the login form in Chrome & Firefox won't prefill the email.
The UI
I'm putting this last because UI is subjective and difficult. It's a beauty in the eyes of the beholder, picking your favorite child, Scarlett Johansson or Margot Robbie; you get the point. I'll spend some time attempting to articulate in a constructive manner my (let's be honest opinionated) feedback on the UI. I'm coming from v4 and I find myself searching for where things are and it might just be a learning curve. Once I've collected constructive thoughts I'll post them below.
I'll continue testing/evalutating and should I come across anything else I'll also post below.