Hi,
A HUGE Congrats & Thank You to all the team, you are doing a wonderful job. I started using v4 last year, and migrated to v5 just some weeks ago. I know you are polishing the edges, with bugs to solve. I do with what you give us and so far it's great even if it takes some time to take this new v5 in hand. I payed my white label licence with no regret.
Here are my 2 concerns.
In France, we display the address first with the CP and then the CITY like this:
Strreet address
POSTALCODE CITY
So it should be:
67800 BISCHHEIM
68300 SAINT-LOUIS
In the template editor, there is no way to adjust this for now.
On the screenshot, you see on the right the part of the address that I framed.
On the mail preview section, below appeared a footer in English. Where do we go to remove or personalise it?
I cannot use the send email feature for now, because I work with French client, I prefer avoit for them to see English text in the mix.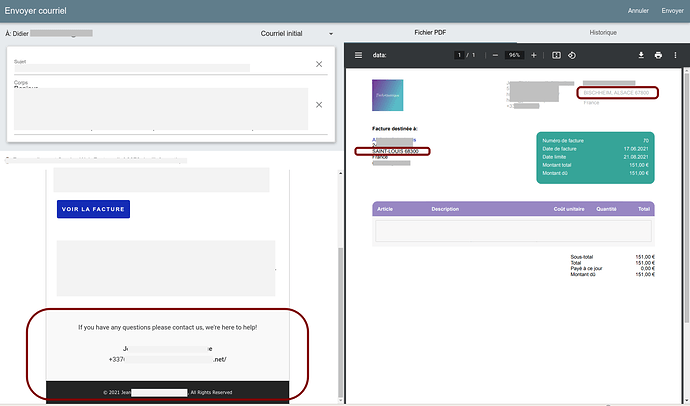 Best regards,
Jean