We're generating the first invoice for a new client.
The subtotal and total on the invoice edit screen show the correct amounts, as verified by manually adding the tasks:

However, the printed PDF shows a different subtotal and total that is inexplicably higher by a measly 2 cents: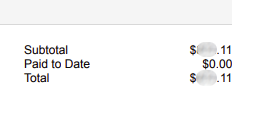 Granted, it's only $0.02 difference, but I can't send a client an invoice that is mysteriously showing the wrong total without looking unprofessional.
Can anyone provide some insight here as to where the mystery $0.02 might come from, and how do I remove it so the emailed PDF shows the correct totals?