Hi,
I'm using a self-hosted invoiceninja5 version (via Yunohost - v5.3.60-C76) on a raspberryPI.
I have had errors trying to generate PDF invoices (500 server error) that I solved from the information I found here and there on the forum and documentation. Mainly I modified my .env file to use PhantomJS (with a private key).
The health check is mostly green as you can see below (don't know what Queue is, and the snapPDF warning seems normal since I can't use it on a self-hosted installation and use Phantom JS instead):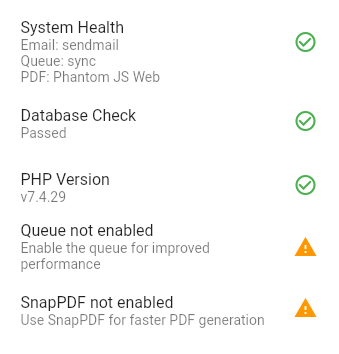 So when I edit a draft invoice I can see a preview using the choosen template, but when I try to view the PDF or download it, I see a single page pdf which shows a grey page with no content and two white dots.
It seems to me that the dots are "loading dots" from a view that is being loaded and that you can see sometimes in the app (for example when you do a CTRL+R).
I didn't find anything about this type of error. And the result is the same when I use the Linux app.
I would appreciate help pointing to information about similar error, or where I can find relevant log info.
Thanks !