Good day everyone. This thread is made for research similar to my previous thread on v4. Things are a bit different here and hopefully we can get it sorted.
See previous details on v4 here: Install InvoiceNinja on HostGator (Shared) - #54 by khat17 - Self-Hosted | v4/Legacy - Discourse
Firstly - I can't even get it installed. I'll go into more details soon once I edit this post.
EDIT
OK. So now I'm back. Let's get into this.
PHP 7.2 is deprecated and my current hosting provider no longer supports it. No problem - we've moved to 7.3 and while Ninja v4 still works, I'd like to move on to v5. Attempts to install have been…less than successful. Heh.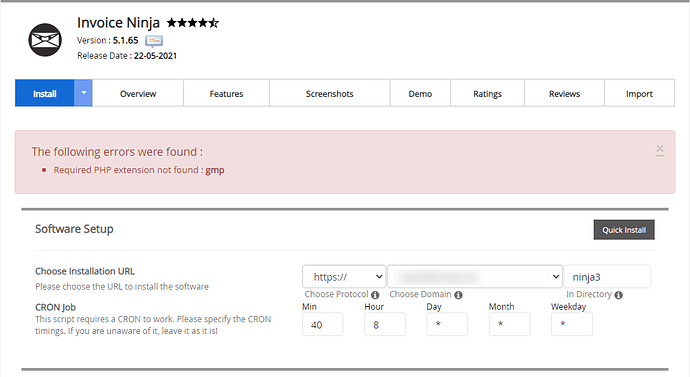 My hosting provider even provides this from Softaculous to allow quick installs, however I get this error about GMP not being found. An email to my provider then says that the installation of GMP is not possible. Great…And they even offer it through Softaculous but it's "not available/possible". So…tried to do it manually.
First - download and extract the file. Second - the REALLY LONG PART - upload everything to a directory on the web space. Then - go to the URL with my test directory - https://mysite/ninja2 - and I'm greeted with a 500 error. OK. Next I'm going to create the database manually and edit the ENV file to add the details - using the example as a template.
Changes made include:
I also changed the mail settings by using the same ones in the ENV for v4 - but no luck.
I had done something else before and gotten to the setup URL - but I'm going to do this over from scratch - reupload the files using FTP - and try to access again. Will keep my modified ENV on hand. Update once it's done uploading.