Hello,
Once in a while I have to issue refunds or cancel an invoice that has already been sent to a client. I know the credits feature has been revamped recently but it's still a bit rough around the edges and I prefer seeing everything invoice-related on the same page, hence I use negative invoices when I need to cancel or refund invoiced sums.
Overall, the feature works quite well, but there are some quirks that need to be ironed out, I think.
First, let's see what works.
I created a normal invoice for a test client and I marked it as paid for $500. Everything goes normally and the client has successully paid $500; this is reflected in the Clients tab:
If I want to cancel that invoice and issue a refund, I would create a negative invoice of the same amount.
If I mark that draft invoice as paid, a negative payment is created, the invoice balance gets zeroed and the client balance is adjusted by the amount of the invoice: this works as intended.
Invoice:

Payment:

Client balance:

Success! The client has been refunded and everything balances out.
Now, about what doesn't work, let's go back to step 2.
Let's say I create a similar negative invoice for the negative amount of the first invoice in order to cancel it, but this time I mark it as sent instead of marking it as paid directly. The client Balance is now -$500.
If I try to mark it as paid from the "Sent" status, I get that popup:

But the invoice status doesn't actually update and it's stuck at "Sent":
No new payments are created either.
Also, if I try to go back to that invoice and edit it in any way (even without touching its amount, by say, editing the Invoice Terms) I get this error: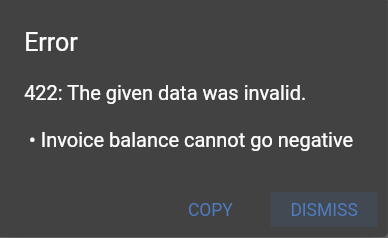 This also applies to the "Paid" negative invoices too, but "Draft" negative invoices can be edited at will.
But let's assume for now that the invoice is OK and does not need to be edited further and that I just need to apply a negative payment to it.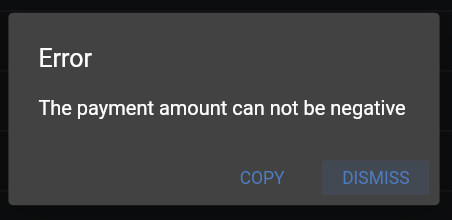 If instead I try to add a negative payment not linked to the negative invoice, IN accepts it, but then it cannot be applied to anything after (the only available options for it are Archive and Delete):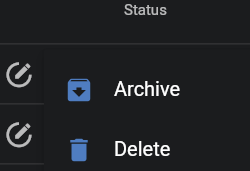 However, the client "Paid to Date" now gets zeroed with the payment:
The Balance is still at -$500 because of the sent negative invoice, though.
---
So, all in all, the only way I found to make negative invoices work properly is to mark them as paid while they are still in draft mode. Everything else, from sending the negative invoice, to creative manual negative payments does not go as intended.
In retrospect, here are the bugs/quirks:
"Sent" negative invoices cannot be successfully marked as paid, even though the software says so in a popup, and are thus stuck in a status limbo (they cannot go back to a draft and cannot avance to the paid status, so they can only get deleted at this point);
"Sent" and "Paid" negative invoices cannot be edited at all, IN citing a negative balance, even though "Draft" negative invoices can be successfully edited, and of course all statuses of positive invoices can be edited too;
Negative payments tied to a negative invoice cannot be saved;
Negative payments not tied to an invoice can be saved, but then they can't be applied to an invoice;
Thanks in advance for looking into that!