I'm using Make/Integromat to automate creating multiple invoices by reading a list of invoice data from a CSV which works well.
However I also need to attach a file to the invoices. This is not possible using the built-in Invoice Ninja Make Modules that create invoice.
So instead I using the generic Make API Call to call the Update Invoice end point to attach the file. I just can't get it to work. The API call is returning a 200 success, but no files are being added to the Documents of the invoice.
Here is the basic syntax I'm using.
I'm using the "Invoice ID" from the create invoice module which works fine, and I'm using the raw "Data" from the file download from Google Drive module for the file to upload to the Documents array of the invoice.
Is what I'm doing possible, using the raw data from Google file download as the file?
Is my syntax correct?
Any guidance much appreciated.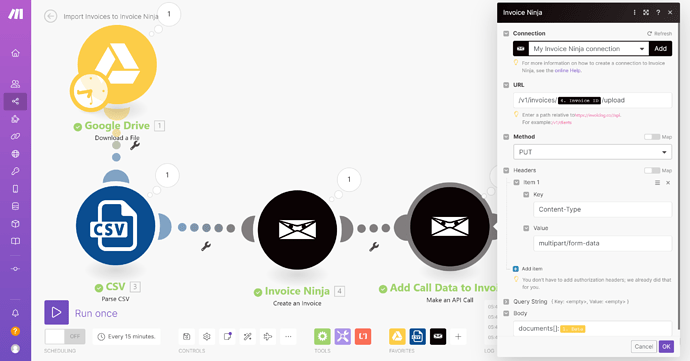 Thanks,
Ant.