I am trying to get Invoice Ninja V5.3.84 self hosted from Softaculous installation to work.
When I try to run the script it stops me and I can not get a full login screen
Image of what I get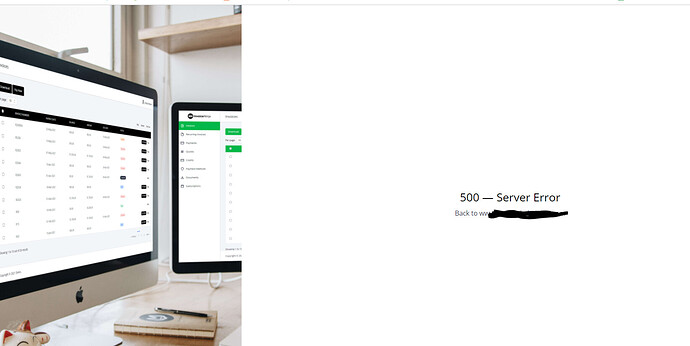 If I click the link under the 500 server error - it takes me to domain/client - which is not found error. If I modify the url to domain/ninjadirectory/public/client - it shows the client login screen.
I am thinking there are some serious url issues that might be stopping for the pages to load correctly.
I have looked at the .env file and it shows correct url info
I checked the error log and found this for when I tried to run domain/ninjadirectory
[Wed May 04 17:49:48.016606 2022] [autoindex:error] Cannot serve directory /home/xprivate/public_html/ninjadirectory/public/vendor/: No matching DirectoryIndex (index.php,index.php5,index.php4,index.php3,index.perl,index.pl,index.plx,index.ppl,index.cgi,index.jsp,index.js,index.jp,index.phtml,index.shtml,index.xhtml,index.html,index.htm,index.wml,Default.html,Default.htm,default.html,default.htm,home.html,home.htm) found, and server-generated directory index forbidden by Options directive