Hi,
where i can find the Setting for disabling the Switch button on Client Portal.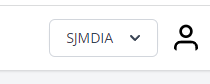 There isn't a setting option for configuring this.
Note, this only shows if there is a client with the same email address across companies, it is a convenience for the client to allow them to move between different companies without having to log in
If you wish to disable this completely, you would just need to remove
check_client_existence from this line.
It is not possible to ch
okay perfect… that`s okay, i forgot that my two testclients has the same email…