I need help to migrate from self-hosted to Ninja Invoice hosted.
Hi,
Which specific version of the app are you using?
I'm using self hosted is 4.5.24 and I just got a Ninja Enterprise license so I want to migrate to there.
You can either update to v4.5.50 and use the migration tool to migrate your data/settings to the hosted platform or export/import CSV files from the current version of your app.
Do you ahve the steps to update to v4.5.50?
I suggest checking for any errors in the web server error logs
Ok will try to connect with the hosting and get some support from them, but isthere any other way to just export my curren data or DB and just dump it into my new Ninja Hosted account?
You could setup the app somewhere else and then copy over the database and .env file.
OK now I'm able to login and I see now 4.5.50 version but I don't see an option to migrate to Ninja Hosted, I only see Self-hosted:


This is certainly possible.
Firstly ensure you have an account on v5 with the same email address you use to login with v4.
Then For the URL enter the following:
Followed by your login credentials for v5.
That should be all that is required.
@david @hillel when I tried to do the migration using the https://invoicing.co and having the same email and password in both accounts I was able to submit the migration request. and the screen was saying that I'll get an email once migration is completed. but I got an emailwith "Migration failed
Looks like something went wrong with the migration for the following company: A. B. Bakery Services
Please contact us at contact@invoiceninja.com for more information on this error."
Then when I login into my V5 account now it says that my account is a free plan and I need to upgrade. But it was already pro version and I have the payment for a year, and I see the expiration says 11/22 even when the payment says 11/23. who can support on this?
This is very crital we have some invoices we need to sent and we are stuck. How to I get a support call to solve my issues?
I just sent you an email.
Thanks David I don't see that message anymore…
Now I just tried again to do the migration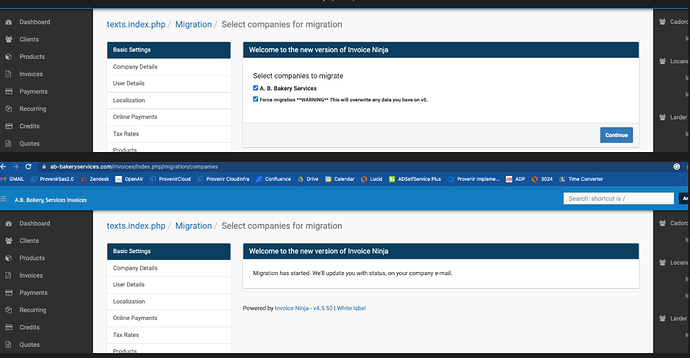 For now I'm just waiting to see what happens and I'll update here again…
@david it's been 4 hours and I don't see nothing reflected into the V5 version and no email coming to me. usually how long it takes to complete the migrations?
It will be easy to track this via email, could you please send an email to contact@invoiceninja.com and we'll look into it for you.
Thanks @david I'll send an email today hoping that we can have either a call or needed support to have the migration completed
Thanks for the help, after sending email to contact@invoiceninja.com they asked for a Bakaup from my current V4 database, I shared to them, and then they translated into a JSON file, that I was able to use and import all my V4 company data into my V5 company.