Hi,
My business currency is AUD and I have a client that I invoice in EUR. And I am running into weird issues with currency exchange rates through the whole invoicing and payment process.
First, when creating invoice, I assume, automatic exchange rate should be taken, but the rate is reversed (0.61807)
Then I enter custom/correct rate for the date of the invoice is issued (1.50869)
The client pays the invoice in a few days, so I am entering the payment. Invoice Ninja now offers some automatic exchange rate (1.61794)
Usually this is not the exchange rate that my bank applies, so I enter custom rate (1.50869)
Then, when I go to the invoice, I can see that the rate was adjusted automatically, but to some automatic rate. It's not the rate I entered when creating the invoice, and it's not the rate that I entered when creating a payment, so I have to adjust it again after the invoice is paid.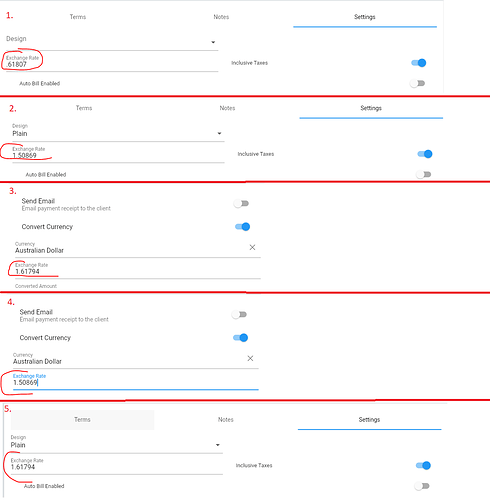 I think, the payment should not change the rate of the invoice, or if it does, it should change it to the one that is entered when creating payment. Or Invoice Ninja could have an option, where you could choose if you want the rate to be updated from the payment, or you want the original rate to be unchanged. I can see benefits from both options depending on situation. However, I consider current behavior to be a bug.
Cheers,
Laurius